FAKULTAS EKONOMI, UNIVERSITAS ISLAM INDONESIA, atau disebut FE UII, merupakan salah satu program pendidikan tinggi di bidang bisnis dan ekonomi yang bereputasi dan diminati di Indonesia. Kami menawarkan program pendidikan tinggi yang lengkap mulai dari pendidikan sarjana S1, program pasca sarjana (magister & doktor), serta pendidikan profesi dengan tawaran pilihan program studi  beragam (manajemen, akuntansi dan ilmu ekonomi). Semua program studi tersebut telah terakreditasi A (sangat baik) oleh Badan Akreditasi Nasional.
The Faculty of Economics, Universitas Islam Indonesia, or so called FE UII, is one of the favorite and reputable higher education program of business and economics studies in Indonesia. We provide a complete education programs ranging from undergraduate level degree, postgraduate degree (masters and doctoral), and also professional education with a varied choice of study majors in management, accounting and economics. All of these courses have been accredited A (excellent) by the National Accreditation Board (BAN-PT). 
Berprofesi sebagai mahasiswa tentu saja sudah tidak asing ditelinga kita apabila menyandang predikat sebagai kaum yang mengedepankan intelektualitas dan […]
Berpartisi dalam event internasional bagi Panji Raga, Mahasiswa Program Studi Hubungan Internasional Universitas Islam Indonesia (UII), merupakan sebuah kesempatan […]
Universitas Islam Indonesia (UII) berhasil mempertahankan sertifikat International Organization for Standarization (ISO) 9001:2008, yang merupakan standarisasi internasional terkait sistem […]

Fakultas Ekonomi UII menawarkan tiga pilihan program studi, yaitu Program Studi Manajemen, Program Studi Akuntansi, dan Program Studi Ilmu Ekonomi. Seluruh program studi yang ada di FE UII telah mendapatkan akreditasi A (sangat baik) dari Badan Akreditasi Nasional Perguruan Tinggi (BAN-PT). Selain itu, UII juga telah mengikuti akreditasi institusi perguruan tinggi (AIPT) dengan hasil nilai akreditasi A.
Simak Pilihan Program Studi
Student Services
Mahasiswa aktif UII dapat menggunakan berbagai fitur layanan sistem informasi untuk membantu keperluan kegiatan akademik, layanan e-learning, dan sistem pelayanan perpustakaan.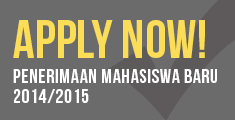 Computer Based Test (CBT) dibuka setiap hari Senin-Sabtu pukul 08.00-14.00 WIB (kecuali hari libur) hingga 23 Agustus 2014. Informasi lebih lanjut di pmb.uii.ac.id
Silahkan unduh Buku Panduan PMB UII Tahun Akademik 2014/2015 melalui tautan berikut ini: >>> Panduan Penerimaan Mahasiswa Baru UII 2014/2015